Application anesthetic Gelido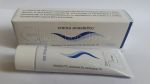 Applicative anesthetic Gelido has a specially designed cream Foundation for a uniform and deep penetration into the epidermis. Anesthetic enables a wide range of traumatic cosmetic procedures and minor surgery with absolutely no pain. Hypoallergenic formula anesthetic ensures the absence of inflammatory reactions and rapid healing of the skin.

Procedure, before which it is recommended to use the anesthetic Gelido:
Mesotherapy
Contour
Biorevitalization
Laser hair removal
Peeling
laser Removal skin lesions, tattoos
permanent makeup, tattoo.